5 Christmas Decorations You and Your Family Will Love Setting Up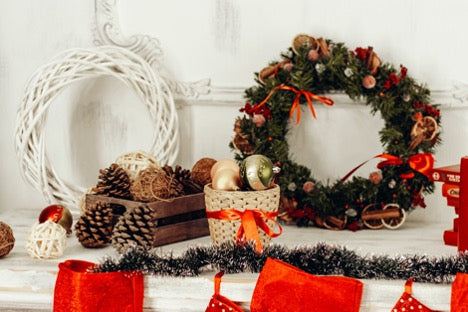 The holiday season is in full swing and we can't wait to share the Christmas spirit with our loved ones. There are plenty of great home décor ideas that capture the feelings this season brings out. Setting up these decorations with your family can be an even more rewarding experience than showing them off.
Here are the top five Christmas decorations you and your family will love setting up.
1.   
Christmas Card Tree
Live in an apartment that can't fit a Christmas tree? Then this Christmas card tree idea may be the perfect one for you.
The idea is simple: acquire two dozen Christmas cards of your liking and arrange them on your living room wall in the shape of a Christmas tree. You can also get your family members to write little Christmas-themed notes on each card to make this arrangement more special. Consider writing a unique message with the help of the whole family for the crowning card on top.
This idea is incredibly easy to set up, and requires little to no cleaning up when it's time to take your "tree" down.
2.   
Fairy Lights
Fairy lights add a touch of magic wherever they are set up. If your apartment or home doesn't contain a fireplace, you can still add some visual warmth to your living space by setting up fairy lights in the right places. These are usually available at home décor stores around the country.
We recommend placing them inside glass lanterns and keeping them under or around your Christmas tree. Alternatively, you can attach them to your living room wall and arrange them in different shapes. Try making it a contest and seeing which of your family members can create the most intricate fairy light patterns.
3.   
Snowflakes on Mirrors
Another simple but fun Christmas decoration idea is to draw snowflakes on the mirrors in your home. This idea is especially great if you have a large mirror in your home's entrance or living room.
Consider using a washable-paint marker to draw different types of snowflakes on the mirror surface. They say no two snowflakes are ever identical, so consider getting your kids to help out to make this decoration process extra special.
4.   
Candy Vases
Want to present Christmas treats in a fun and exciting manner? Consider filling up a clear glass vase with candy and placing it on your living room table.
This idea can be made more fun depending on how you choose to add your candy. We recommend layering different kinds of treats to create an eye-catching pattern. Just make sure your kids don't eat too many of these treats when setting up this great decoration idea.
5.   
Hot Cocoa Station
Few things are more satisfying than sipping on hot cocoa during the Christmas season. Consider setting up a small hot cocoa station in the corner of your kitchen or living room. You can place a pot or dispenser containing hot cocoa on a small table or trolley before placing some holiday-themed mugs alongside it.
You can also include some add-ons such as marshmallows, sugar cubes, and cinnamon powder to give your family and guests the freedom to spruce up their favorite holiday drink.
Final Thoughts
There is no shortage of great holiday decorations to try out with your family. So keep the above home décor ideas in mind when you decide to give your home a Christmas makeover this season.
XOXO
Sheela