3 Festive Drinks for Cooling Off this Summer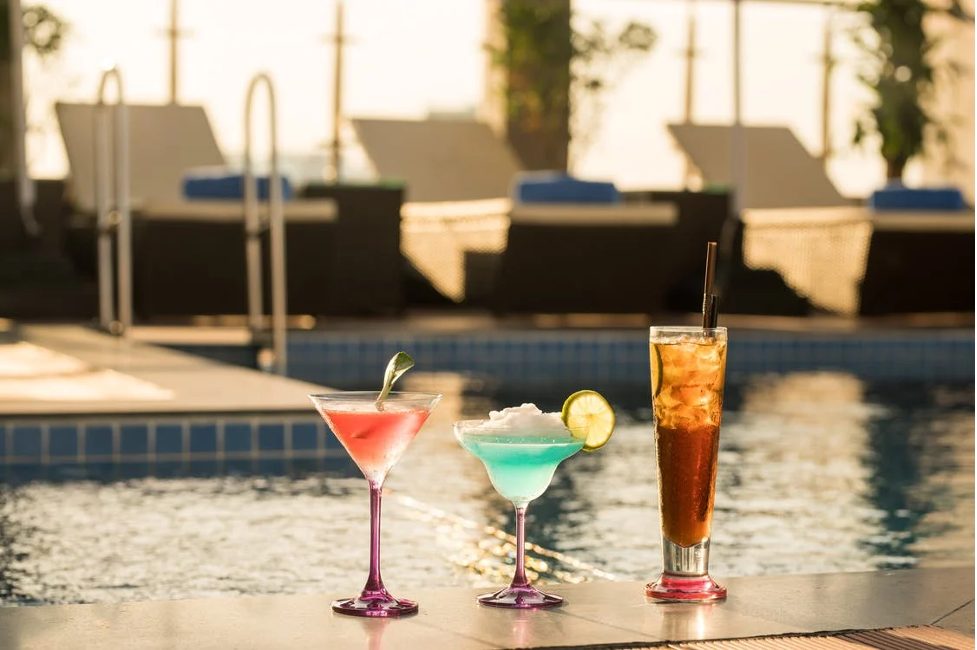 The warm Summer months bring plenty of sunshine and joy with them and we can't wait to get out and celebrate the season. Many of us ring in the season by hosting outdoor brunch and garden parties. However, hosting outdoor events in the Summer can be tricky if the weather gets too warm.
The good news is that you can help your guests stay cool and comfortable with an array of festive drinks. We've gathered a few recipes to help you concoct some of our favorite Summer drinks for your guests. So let's get mixing!
1.   
Sangria
Sangria is the perfect drink for any outdoor summer event. This Spanish cocktail's distinct deep red color and chunky fruity ingredients are exciting enough to maintain your event's festive atmosphere. So be sure to pick up a bottle of Garnacha or Pinot Noir for our Sangria recipe summarized below:
Ingredients
1/2 medium apple, chopped
1/2 medium orange sliced with the rind on
3-4 tbsp brown sugar
3/4 cup orange juice
1/3 cup brandy
750 ml bottle dry Spanish red wine
1 cup ice
Directions
Start by placing your chopped fruits and sugar in a large pitcher and muddling them for 45 seconds. Next, add in the brandy and orange juice and give the drink another quick muddle. Once the mixture is homogeneous, you can add in the red wine and give it one final stir. Add in the cup of ice and your summer drink is ready to serve!
2.   
Blackberry-Mint Julep
The humble mint julep has been a staple Summertime drink for generations. Who doesn't love that sweet lemony flavor complemented by hints of caramel-ey Bourbon?
The mint julep is widely loved in its ordinary form, but we've taken this drink to the next level by infusing it with a fruity blackberry twist. Check out our recipe below:
Ingredients
1/4 cup blackberries, plus more for garnish
2 tablespoons mint leaves, plus 1 mint sprig for garnish
1 tablespoon sugar
1 1/2 ounces bourbon
Small ice cubes
Directions
Start by filling a rocks glass or a julep cup halfway with ice cubes. Next, combine your blueberries, bourbon, mint leaves, sugar, and a small handful of ice cubes in a shaker and shake well.
Strain your mixed drink into the glass with the help of a sieve. Be sure to squeeze the solids to get some extra flavor out. Garnish the finished drink with a mint sprig and blueberries.
3.   
Mimosa Margaritas
Can't decide between Mimosas and Margaritas? How about a drink that combines the best of both worlds? This citrusy champagne-heavy cocktail is sure to wow your guests and make your next brunch party extra special. Check out our recipe below:
Ingredients
2 cups orange juice
1/2 cup tequila
1/4 cup lime juice
Lime wedge
Coarse salt
1 bottle champagne or prosecco
Orange and lime slices
Directions
Combine the orange juice, lime juice, and tequila in a pitcher and stir. Next, coat each margarita glass's rim with lime and dip it in salt.
Now pour in your orange juice mixture and top it off with champagne. Garnish the drink with lime and orange slices before serving.
Make the Most of Summer
The drink ideas mentioned above are sure to make your next Summer social event a huge hit. So try out these recipes and wow your guests with your fantastic mixing skills.
XOXO